Home
»
Sump Pump Installation
Basement Sump Pump System Company in Montreal, Quebec City, Laval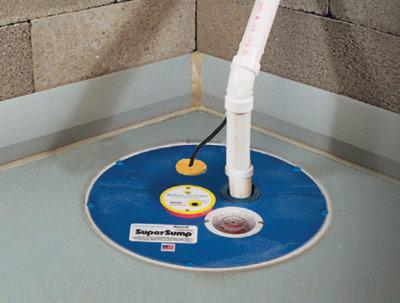 The sump pump in your basement drainage system is the heart of the whole operation. And just like the heart, if the sump pump stops working, the entire system shuts down. When that happens, your basement gets flooded. In order to put that much trust in a basement waterproofing system, you need to know you can fully rely on your sump pump.

Like any integrated system, the pump is an important element but is only one of many that make up the entire system.
We install the sump system and we supply the pump which will be connected by the customer's plumber.
Paying attention to these other parts of your basement waterproofing system- and the sump pump- will let you have a dry and worry-free basement for a very long time.
Before and After
Before

After

Water Infiltration problems in Saint-Anicet,Qc

Mrs. Emannuelle, a client from St-Anicet, was having water infiltration problems that were damaging her entire basement area, even though she had already a pedestal sump pump installed in the basement.

After contacting us, we have recommended the replacement of her old sump pump system with the new SuperSump pump since the old one was not efficient and was letting moisture come inside the house.

Before

After

Replacing an old pump with our TripleSafe sump pump in Les Coteaux, Qc

This house in Les Coteaux was in a very bad state.

Water was coming into the basement during each thaw season, which was deteriorating the place and causing too much moisture in the area.

After finding our company, Mr. Frank called us and asked for our free inspection.

We waterproofed the entire place by installing our TripleSafe sump pump to pump all the water out, 2 IceGuard accessories to prevent water freezing and a LawnScape discharge line outlet.

Before

After

Replacing an old sump pump with the SuperSump pump, Qc

This pedestal pump in Coteau-Du-Lac was getting clogged most of the times, which was preventing the pump from extracting water from the sump pit or sump liner.

Our customer then opted for our SuperSump pump system that has a CleanPump stand; this patented stand elevates the sump pump intake port to help prevent clogging, which is a common cause of pump burnout.
Customer Reviews
By Christina S.
St-Lazare, QC

"Extremely satisfied. After they had finished cleaning my floors they..."

By Catherine L.
Saint-lazare, QC

"Reliability, product, service, presentation by you at time of purchase"

"Your installation crew was amazing!"

"the customer service I recieved after my installation has been..."

By Lilian L.
Chateauguay, QC

"Both specialist and installation crew were efficient and polite"

By Brett B.
Pointe Claire, QC

""
The right combinations to make your sub-floor area dry
A Sump Liner
The actual sump pump itself must sit below the level of the floor. That means a rigid liner is needed to ensure the pump does not sit in a dirt-filled hole, clog up with mud and collect debris.
An Air-Sealed Lid
An air-tight cover will not let collected water evaporate out into your basement, preventing moisture build-up in the air. The sealed lid will also reduce the noise the pump makes when operating and will prevent items from falling in and possibly causing failure.

Having a floor drain designed into your sump lid will allow the system to collect water that may come from pipe leakage or water main breaks.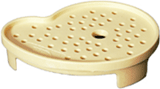 A Pump Stand
The sump pump sits down in the liner where the water collects. In order to avoid the pump sitting directly on the floor of the liner where it could clog on collected debris, the CleanPump Stand lifts the pump up enough to allow sediments to not affect the pump. The pump stand also keeps debris from jamming the check valve and exit pipe.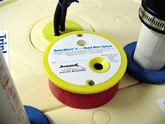 An Alarm
In an un-alarmed system, the only way you will know if the system has failed is if your basement floods, and by then it's too late. Having a battery-operated alarm signal that lets you know when the water reaches a certain height in the liner (above the switch on stage but below the overspill height) will save you a lot of worry.
Times To Be Aware Of
There are certain occurrences that will most certainly happen in the lifetime of your basement drain system. You should be prepared for....
Power outage (i.e. when power lines are down during a storm)
An unplugged pump
A tripped circuit breaker
Having the primary pump fail
A constant flow of water that over-runs the primary pump
The right combination of basement products incorporated into your sump pump system will ensure that you never have to complain about your flooded basement ever again.