Crawl Space Repair with CleanSpace® Encapsulation System in Montreal, Quebec City, Laval
A dirt, vented or unconditioned concrete crawl space under a home is a very bad idea. The earth has very high humidity in the soil, and this water vapor moves easily into the crawl space and upwards into the house environment.
Damp environments are unhealthy and destructive, creating a place where mold thrives and spreads by producing millions of airborne spores, even though only a rare few of are toxic. Heating and cooling costs are also higher, especially if you have a vented, dirt crawl space. Insects and critters of all kinds love damp environments and wet materials, and rot and decay occur in damp environments and cause structural damage.
The natural airflow in a house is from bottom to top. This sucks the moist air and everything in it up into the living areas of the home. Mold spores, odors, humidity and critters create a very unhealthy environment for people. Many people are allergic to these things and experience a host of symptoms and don't realize that their dirt crawl space is affecting their health.
Now there is a solution to dirt crawl spaces - The CleanSpace® System - developed by Basement Systems, the world leader in dry basement and crawl space technology. We provide free no obligation estimates in Montreal, Quebec City, Laval, and in nearby areas.
Systèmes Sous-sol Québec installs the CleanSpace® crawl space encapsulation system in cities of Quebec like: Valleyfield, Saint-Constant, Chambly, Saint-Luc, Granby, Terrebonne, Repentigny, Lachenaie, Laval, Longueuil, Saint-Hyacinthe, Sainte-Julie.
Related Videos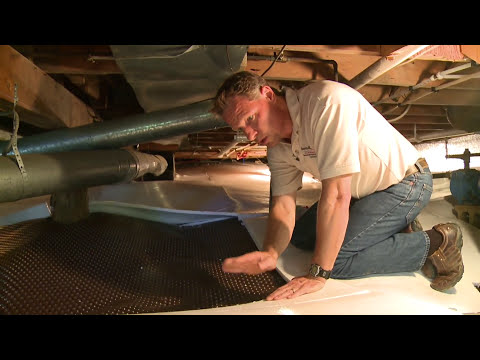 Crawl Space Insulation
Welcome to the episode two of the All Things "Basementy"! Video series. In this episode, Larry Janesky,... Watch Video »
The CleanSpace® Crawl Space Encapsulation System
The CleanSpace® system completely isolates your home from the earth, dramatically reducing the humidity level in the air. Lower humidity levels reduce or, in some cases, eliminate mold growth, rot, and critters from your crawl space, making the entire house healthier.

The liner is a heavy 20-mil-thick material, similar to a pool liner. It is manufactured in seven layers - a blend of high-density polyethylene, low-density polyethylene, and two layers of polyester-cord reinforcement. It is blue on one side and white on the other. The bright white finished side really brightens a crawl space with the available lighting and allows you to easily see that your crawl space is free of mold, insects, and dirt. The CleanSpace® liner is tough enough for you to crawl on it and use your crawl space for storage. Service people can crawl on it without worry of putting holes or tears in the liner. The liner completely stops moisture penetration.