Crawl Space Repair with CleanSpace® Encapsulation System in Montreal, Quebec City, Laval
A dirt, vented or unconditioned concrete crawl space under a home is a very bad idea. The earth has very high humidity in the soil, and this water vapor moves easily into the crawl space and upwards into the house environment.
Damp environments are unhealthy and destructive, creating a place where mold thrives and spreads by producing millions of airborne spores, even though only a rare few of are toxic. Heating and cooling costs are also higher, especially if you have a vented, dirt crawl space. Insects and critters of all kinds love damp environments and wet materials, and rot and decay occur in damp environments and cause structural damage.
The natural airflow in a house is from bottom to top. This sucks the moist air and everything in it up into the living areas of the home. Mold spores, odors, humidity and critters create a very unhealthy environment for people. Many people are allergic to these things and experience a host of symptoms and don't realize that their dirt crawl space is affecting their health.
Now there is a solution to dirt crawl spaces – The CleanSpace® System - developed by Basement Systems, the world leader in dry basement and crawl space technology.
Before and After
Before

After

Cracked Foundation Wall in Cornwall, Ontario

This client contacted us initially to fix his humidity problem in his crawlspace, but while we were there, we noticed that there was a very large crack in the foundation wall of the crawl space.

We fixed this issue by installing the PowerBrace system. It consists of zinc coated beams and components. PowerBraces utilize a joist reinforcement that distributes the load evenly. The crawl space is now stable and sealed.

Before

After

Encapsulation and waterproofing of a crawl space in Godmanchester, Qc

We have transformed this crawl space in Godmanchester, Qc so that it is no longer wet - We encapsulated it all with our CleanSpace vapor barrier membrane and waterproofed everything by installing a SmartSump sump pump system.

At Systèmes Sous-sol Québec, we install only the best sump pump systems available anywhere in the province of Quebec. We have an answer to clogging sump pumps, power failures, torrential rainfall, and much more!

We are happy to have been able to solve these problems in the crawl space. For a free estimate, do not hesitate to contact us!

Before

After

Encapsulation of a wet crawl space in Saint-Anicet.

Mr. Tessier contacted us for a free evaluation to encapsulate his crawl space. There was already insulation, but it was not made with products designed especially for crawl space.

Our specialist Sam went to Saint-Anicet to give this advice and make this submission.

He recommended the installation of our CleanSpace crawl space waterproofing membrane and the SmartDrain drain that will capture the infiltration of water from the earth. All of this is connected to the Sanidry Sedona dehumidification and air purification system. This area is finally dry and clean and contributes to the circulation of clean air throughout the house.
Customer Reviews
By George W.
Long Sault, ON

"I live in Long Sault Ontario, I was getting the run around with the..."

By Magdalena S.
Bainsville, ON

"I have already recommended your company to friends"

By Mark R.
Notre-Dame-De-L'Ile-Perrot, QC

"This was our second job, we are considering others...good work"

By Wayne R.
Notre-Dame-de-L'Ile, QC

"Presentation and confidence in materials used"

By Anabela M.
Pierrefonds, QC

"Your crew was very good, dedicated personal. The sales people in office..."
Systèmes Sous-sol Québec installs the CleanSpace® crawl space encapsulation system in cities of Quebec like: Valleyfield, Saint-Constant, Chambly, Saint-Luc, Granby, Terrebonne, Repentigny, Lachenaie, Laval, Longueuil, Saint-Hyacinthe, Sainte-Julie.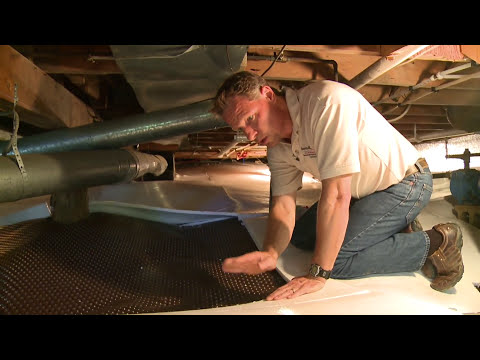 Crawl Space Insulation
Welcome to the episode two of the All Things "Basementy"! Video series. In this episode, Larry Janesky,...
Watch Video
Related Videos
The CleanSpace® Crawl Space Encapsulation System
The CleanSpace® system completely isolates your home from the earth, dramatically reducing the humidity level in the air. Lower humidity levels reduce or, in some cases, eliminate mold growth, rot, and critters from your crawl space, making the entire house healthier.

The liner is a heavy 20-mil-thick material, similar to a pool liner. It is manufactured in seven layers – a blend of high-density polyethylene, low-density polyethylene, and two layers of polyester-cord reinforcement. It is blue on one side and white on the other. The bright white finished side really brightens a crawl space with the available lighting and allows you to easily see that your crawl space is free of mold, insects, and dirt. The CleanSpace® liner is tough enough for you to crawl on it and use your crawl space for storage. Service people can crawl on it without worry of putting holes or tears in the liner. The liner completely stops moisture penetration.